"Christmas Centerpiece"
How to Make a Christmas Centerpiece
Wouldn't You Like to Discover How to Create This Stunning
Christmas Centerpiece Using My Own
Simple and Proven Techniques? …Guaranteed!
From Ladybug Wreaths
"Christmas Centerpiece"
Instructional DVD Video
Teaching You How to
Make a Christmas Centerpiece
Instructional DVD Video
"Christmas Centerpieces"
This Christmas Centerpiece will be so much fun to make…
I really DO "Guarantee" that you can do it!
I'm sure that you and I will be making this arrangement together in no time!
$39.97
Free Shipping with Amazon Prime!
Wouldn't you just LOVE to learn How to Make a Christmas
Table Centerpiece as beautiful as this one?
This DVD will show you with step-by-step instructions how you can do just that!
Designing is so much fun, and I am really thrilled to be the one who can teach you a hobby that I know you'll love – as well as one that will bring JOY into your life!
$39.97
Free Shipping with Amazon Prime!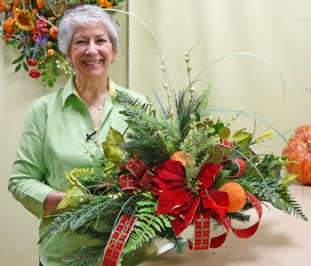 How Would You Like to Make a Beautiful and Unique Christmas Table Centerpiece?
This DVD teaches you how to make a CHRISTMAS ARRANGEMENT. But it can be easily adapted to make any table arrangement for other times of the year. It will be one that will make your home uniquely beautiful. And you can make it yourself? With my instructions on the how-to video I filmed for each of you, I KNOW you can do it! As a matter of fact…I GUARANTEE YOU CAN DO IT!
If you would like a floral arrangement for your table that does not have to be removed every time you sit down to eat, and every time you have guests over, I have the solution. This arrangement is securely attached to a nineteen cent tile, and will NEVER come loose. You will not have the height of a container to raise your arrangement higher than you would like it to be. We have come up with an "ideal" solution to this problem. You can have a lower floral arrangement in the center of your table that does not have to be moved when guests sit down to enjoy a meal with you. It can stay in the center of your table, and you will be able to see over it. This idea is ingenious! You'll LOVE it! I LOVE it! And…it is so much fun!
There is no expensive container to buy – and no extra height added to your centerpiece! You are only using a ceramic tile which costs just nineteen cents! And, we have a secret way to anchor your arrangement to the tile! I promise you this arrangement will not pop off. It is there PERMANENTLY!! You will be so surprised at how easy and inexpensive these are to make. Don't miss out on your chance to start designing these gorgeous centerpieces for yourself and your friends. Why, you can even make them to sell.
I know what you're thinking: "I certainly can't make that." But, all you have to do is follow along with me in this video, which is over an hour long. I will show you each and every step in designing this beautiful table centerpiece. You will be surprised at how quickly you will begin to see your own personal style develop as your confidence grows enough to stray a little from the steps that I am teaching. I GUARANTEE that you can do it!
I will teach you many of the secret tips and techniques I personally developed myself as I held nightly design classes in my shop. Floral design doesn't have to be complicated. In fact, it should be fun! In my videos, I encourage you to work along with me as I show you how to make this beautiful Christmas centerpiece from start to finish. We begin with our cheap and unique ceramic tile, and anchor your Styrofoam. Now, this is where you'll start having lots of fun as we learn to tie two beautiful bows, which are added first to our arrangement. Then… yes, we will add lots of blooms, blossoms, iced fruit, greens, and mosses.
JUST DON'T FORGET… I KNOW YOU CAN DO THIS!
As a Matter of Fact…I Guarantee You Can! Buy Now! – Free Shipping with Amazon Prime!
NOTE: Another great Christmas decoration is my DVD on how to make a table top Christmas tree!