"Deck The Halls"
How to Make a Christmas Wreath!
Would You Like to Discover How to Create This Stunning
Christmas Wreath Using Simple and Proven Techniques… Guaranteed!
From:  Ladybug Wreaths
"Deck the Halls" Video
Instructional DVD
How to Make a Christmas Wreath
Instructional DVD
"Deck the Halls" Video
We will have SO much fun making this Christmas Door Wreath!
It is simple, and…You have my "Personal Guarantee"!
I'm sure you'll be making your own Christmas Wreaths in no time!
$39.97
Take a Peek at the Clips of Making a Bow Below!
I Will Teach You My Simple Technique so You Can Make
Beautiful Wreath Bows and Tree Toppers in no Time!

With this DVD, I CAN and DO teach you to make an exquisite Outdoor Christmas Door Wreath in no time!  Designing is so much fun, and I am really thrilled to be the one who can teach you a hobby that I know you'll love – as well as one that will bring JOY into your life!
$39.97
How would you like to learn to make a beautiful Christmas Wreath?

Well, you can!  I am certain that you can.  I have taught many people through the years to make some of the most beautiful wreaths you have ever seen!  I really want to teach you to do that too.  I am so sure that you can learn this enchanting hobby, that I guarantee — yes, GUARANTEE — that you can do it.
In this beautiful green Christmas Door Wreath, we will start with a beautiful bow, and I'll be showing you in step-by-step instructions how I make a full bow with many loops and streamers.  The method I came up with to teach you bow-making is different, unique, and definitely effective.  Even veteran designers and bow-makers send me emails all of the time saying they have never heard of making a bow the way I do.  They also say they love it so much and it is so easy — that they are switching over immediately!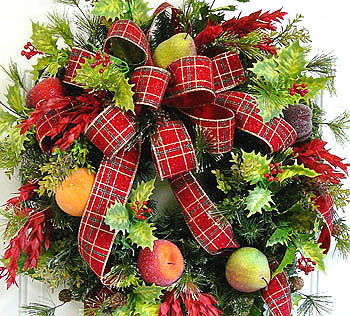 Learning how to make your own wreath is really fun and easy. It is easy, because all you have to do is follow my methods for a terrific wreath every time. And yes, Fun, because when you know what you are doing, putting blossoms and colors together can be such a JOY! That's what I want to deliver to you: a fun project, while at the same time you gain a sense of accomplishment. An enjoyable hobby that creates beautiful, yet reasonably priced gifts (made with YOUR OWN HANDS!) for family and friends; or a money-making craft that can increase your income in these tight times. Additionally, this hobby has great personal benefits: the sense of accomplishment will make you feel so very good about yourself! You can set your own hours! And you can design every gift you give to friends and loved ones! And I'm telling you…. they will be so very impressed!!
I will teach you many of the secret tips and techniques I personally developed myself when I held design classes at night in my shop. Wreath design doesn't have to be complicated. In fact, it should be fun! In my videos, I encourage you to follow along with me as I show you how to make a beautiful wreath from start to finish.
As you follow along with me making this beautiful wreath, I know you will really be surprised.  Yes, surprised at how quickly you will begin to see your own personal style develop, as your confidence grows.  Soon you will be confident enough to stray a little from the steps that I am teaching you.  Can you imagine how much fun it will be to make your own beautiful Christmas Door Wreath?  Your mind will be filled with ideas of many different types of outdoor Christmas Wreaths!  I am always thrilled when I see my finished product.  I want that for you.  I want you to make this "Merry Christmas" outdoor wreath for your door.  I want you to smile with a sense of accomplishment when you walk in your door.
This Christmas Door Wreath is so simple, you will not believe it.  Customers are telling me all the time:  "Oh, how I wish I could do what you do…I wish I could make those beautiful wreaths."  Well, you can!  I am so sure you can, that you have my 100% satisfaction guarantee.  After you make your first wreath, Christmas Wreath Ideas will just be flowing through your head — so many that you think you can never do them all.  Well, I always have many more Christmas Wreath Ideas in mind than I ever have time to make them!
As I walk you slowly through each step, I know you'll feel the excitement and pride as you begin to make Spring Wreaths, or Summer Wreaths, or Fall Wreaths, and then, yes, Christmas Wreaths. It is truly such a wonderful feeling! Soon, you'll begin experimenting a little on your own, and you won't be following every one of my steps anymore. That is when you'll see that you are developing your own beautiful style — one unique only to you!
JUST REMEMBER… I KNOW YOU CAN DO THIS!
As a Matter of Fact…I Guarantee You Can!      Buy Now!
NOTE: You also will want to take a look at this Christmas Door Wreath.